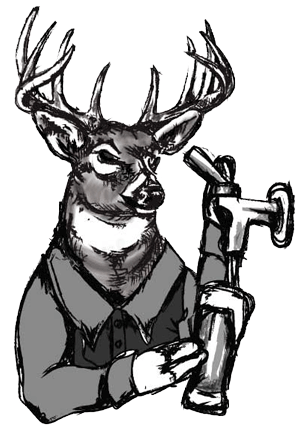 Combining traditional ingredients with Buck Hill creativity, our beers have a distinction that matches our passion for brewing them. We take pride in offering an array of traditional and not-so-common drafts with big flavors and bold taste. Join us for a taste, a pint, or a growler!

On Tap

Double Barrel IPA

Hitchin Post IPA double dry hopped with Buck Hill's farm hops for an abundance of citrusy hop character.

NOTE:  Will be back soon!

Hitchin' Post

West Coast Style IPA with an abundance of citrusy hop character.  Currently unavailable.  Next batch is brewing!

Mexican Monkey

Spicy smoothness of Avion Extra Anejo Tequilla aged in oak combined with tropical fruit aromas of Belgian Tripel

McCliff's American Red

Malt showcase of caramel and toffee. Mild, soft English hop aroma

Rockin Red Rye

Malty Red Ale infused with Bulleit Rye Whiskey.

Paulina Pilser

Unfiltered German style pilsner. Crisp and refreshing, with a dry finish.

Black Powder Porter

Substantial malty dark ale with a complex and flavorful roasted character on a nitro trip

Jingle

Jay's Spare Tire blended with Cask & Crew Ginger Spiced Whiskey, cinnamon and orange

Dubble Trubble

Belgian style dubbel. Malty sweetness, cocoa and caramel aroma and flavors. Fruity banana-like flavors from the Belgian yeast strain.

Bud's Suds

Pre-Prohibition Lager brewed with malted barley, flaked corn and the oldest U.S. cultivated hop variety, "Cluster"

Clusterfluff Cream Ale

Light and refreshing, silky mouthfeel contributed by Lactose (milk sugar).  "Cluster" hops are utilized as a tribute to brewers of the past.

Bud's Resume

Our brewmaster's aware winning Double IPA with hints of citrus and pine notes.  Very Smooth for the ABV.

Drop Tine Tripel

A strong golden ale with fruity aromas contributed by Belgian yeast. Surprisingly light body and a malty sweetness.

Sun Up

German style Paulina Pilsner dry hopped with Amarillo hops for a tart grapefruit like flavor and aroma.

Nutty Professor

English style Brown Ale; caramel flavor and aroma with toasty, chocolaty notes.

Nut Job

Nutty Professor Nut Brown Ale infused with the flavor of hazelnut

Saddle Sore Stout

Velvety smoothness from toasted oats; slight sweetness contributed by lactose; chocolaty, roasty

Sweet Rack Belgian Wit

Light, effervescent, hints of coriander and sweet orange

Bare Ass Barleywine

No fruit is used in the production of this strong ale.  This beer has an earthy happens and toffee like flavors.  An additional layer of flavor and aroma is added by conditioning in Woodford Reserve bourbon barrels.

Short & Spicy Imperial Porter

Caramel and cocoa-like sweetness with a hint of vanilla, conditioned in a Caribbean Rum Barrel

Short and Sweet Imperial Porter

Caramel and cocoa-like sweetness with complementing hop character.  Conditioned in a Bourbon Maple Syrup barrel.
Beer 101
Beer's basic ingredients are water, malt, hops and yeast. What makes beers different is the type of yeast used for the fermentation.
There are two categories of beers: Ale and Lager, with each category subdivided into styles based on the type of grain and yeast, as well as the variety of hops.
Ale: Top-fermenting ale yeasts are kept at higher temperatures, usually ferment quickly, and produce by-products, called esters, which give ales their characteristic flowery, fruity flavors.
Lager: Fermented at lower temperatures (think cold, dark fermentation) for longer periods of time, these beers have the aroma of hops and a sweet malt flavor
Style names come from geographic regions, specific color or specific type of grain, such as stouts, pale ales and hefeweizens (ales) or pilsners, bocks and helles (lagers).