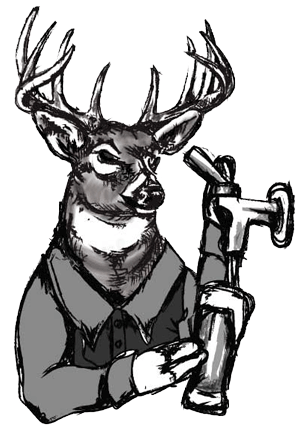 Combining traditional ingredients with Buck Hill creativity, our beers have a distinction that matches our passion for brewing them. We take pride in offering an array of traditional and not-so-common drafts with big flavors and bold taste. Join us for a taste, a pint, or a growler!

On Tap

Boss Babe Brut IPA

A special brew which includes a special blend from Yakima Chief Hops

Double Barrel IPA

Hitchin Post IPA double dry hopped with Buck Hill's farm hops for an abundance of citrusy hop character.

NOTE:  Will be back soon!

Hitchin' Post

West Coast Style IPA with an abundance of citrusy hop character.  Currently unavailable.  Next batch is brewing!

McCliff's Irish Red

An easy-drinking pint. Slightly malty with initial soft toffee/caramel sweetness, and a touch of roasted dryness in the finish

McCliff's Boilermaker

Irish Red infused with Paddy's Irish Whiskey.

*Coming Soon

Winey Bitch

Boss Babe Brut IPA infused with Palm Bay Whispering Angel Rose

Spiced Pumpkin

Jay's Spare Tire infused with coffee, lactose and spices

Bud's Suds

Pre-Prohibition Lager brewed with malted barley, flaked corn and the oldest U.S. cultivated hop variety, "Cluster"

You're Hired IPA

Bud's Resume' double dry hopped with Simcoe hops

Clusterfluff Cream Ale

Light and refreshing, silky mouthfeel contributed by Lactose (milk sugar).  "Cluster" hops are utilized as a tribute to brewers of the past.

Indian Summer Shandy

Clusterfluff Cream Ale infused with cranberry and orange

Bud's Resume

Double IPA with hints of citrus and pine notes.  Very Smooth for the IBU.

Jay's Spare Tire

Toasty malt, gentle sweetness, flash of fresh hop bitterness

Saddle Sore Stout

Velvety smoothness from toasted oats; slight sweetness contributed by lactose; chocolaty, roasty

Gimme S'more

S'more Stout contributed by lactose | chocolaty, & roasty

Sweet Rack Belgian Wit

Light, effervescent, hints of coriander and sweet orange

Short & Spicy Imperial Porter

Caramel and cocoa-like sweetness with a hint of vanilla, conditioned in a Caribbean Rum Barrel

Truth Serum British Pale Ale

Balance between malt sweetness and hop bitterness achieved with premium malts and imported British hops

Kirsch my Asbach

Doppelbock blended with cherries and Ansbach German Brandy.

Short and Sweet Imperial Porter

Caramel and cocoa-like sweetness with complementing hop character.  Conditioned in a Bourbon Maple Syrup barrel.
Beer 101
Beer's basic ingredients are water, malt, hops and yeast. What makes beers different is the type of yeast used for the fermentation.
There are two categories of beers: Ale and Lager, with each category subdivided into styles based on the type of grain and yeast, as well as the variety of hops.
Ale: Top-fermenting ale yeasts are kept at higher temperatures, usually ferment quickly, and produce by-products, called esters, which give ales their characteristic flowery, fruity flavors.
Lager: Fermented at lower temperatures (think cold, dark fermentation) for longer periods of time, these beers have the aroma of hops and a sweet malt flavor
Style names come from geographic regions, specific color or specific type of grain, such as stouts, pale ales and hefeweizens (ales) or pilsners, bocks and helles (lagers).