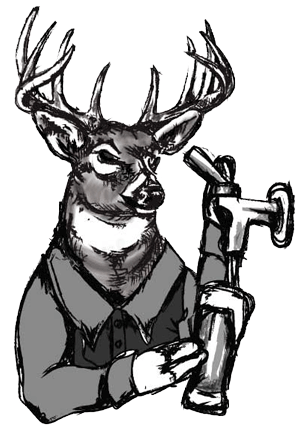 Combining traditional ingredients with Buck Hill creativity, our beers have a distinction that matches our passion for brewing them. We take pride in offering an array of traditional and not-so-common drafts with big flavors and bold taste. Join us for a taste, a pint, or a growler!

Beer 101
Beer's basic ingredients are water, malt, hops and yeast. What makes beers different is the type of yeast used for the fermentation.
There are two categories of beers: Ale and Lager, with each category subdivided into styles based on the type of grain and yeast, as well as the variety of hops.
Ale: Top-fermenting ale yeasts are kept at higher temperatures, usually ferment quickly, and produce by-products, called esters, which give ales their characteristic flowery, fruity flavors.
Lager: Fermented at lower temperatures (think cold, dark fermentation) for longer periods of time, these beers have the aroma of hops and a sweet malt flavor
Style names come from geographic regions, specific color or specific type of grain, such as stouts, pale ales and hefeweizens (ales) or pilsners, bocks and helles (lagers).